<![if !vml]>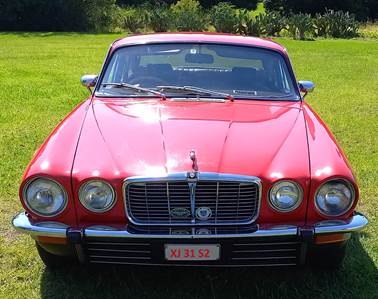 <![endif]>
<![if !vml]>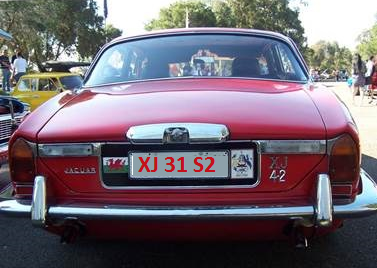 <![endif]>
Jaguar XJ6 L, 1975 – 4 door sedan – long wheel base.
*Rear wheel drive – 3 speeds BW Auto gearbox.
*Engine: 4235 cm3 / 258.43 cui, 170 HP – 126.5 KW.
*Length: 4945 mm – 194.7 in. Wheel base: 2865 mm.
*Weight: base curb weight> 1790 KG / 3946 lbs.
*Top speed" 197 Km/h (122 mph) factory specs.
*Accelerations: 0 – 60 mph 8.7s. 0 – 100 Km/h 9.1s.
*Since converting to electronic ignition & SU carb upgrade it has a little more getup - & - go.
That Crushing Feeling: September 19 – 2011  disaster strikes, while working under the back end of the car (whole car off the ground) a weak spot in the concrete gives way & the back end is off balance – slides sideways & I end up on my right side with the drivers axle on my left shoulder & muffler in my neck. I was told by the Ambos' I was lucky to avoid meeting the devil with 15 mins to spare but maybe the devil was avoiding meeting me, had plenty of broken bones – a few screws & plates keeps it all together just fine – 2 operations in 7 months I'd had enough of the recover bit & started on the upholstery before my 3rd operation. (can't wait around – got things to do, amazing what you can do with your arms from the elbows down) By this time I let the rego run out so it's a concentrated effort to get all the necessary items done for engineers report ( pays to be an old school mechanic – nobody my side of Sydney is game to work on jag IRS) wasn't over joyed in unpacking my 20 ton press & other tools to do the job. Now I have a set of full length drive on ramps so it's a rare reason to use a jack & stands now.
I was back in the workforce 12 months to the month after my squishy experience.
Tom told me he had always wanted a Jag and showed me a picture of a white one. I told him it looked like an old man's car and jokingly said that he would have to get a red or green one if he wanted me to ride in it.
Well joke was soon on me when he surprised me with his new baby. Not being a Jag girl, it didn't take me long at all to fall in love with her as well.
Yes it has caused us some grief but it has also given us a great bond, Tom valued my input with the restoration, and I am so proud of the fantastic job he did with all the interior and engine work.
Now we have an extremely comfy ride that turns heads and it's something that we are both very proud to ride around in.
Wendy
I purchased the car mid 2010 from a local when I was still living in Bendigo Vic. The young guy who owned the Jag had no idea you needed deep pockets or can do the work yourself if you want to own a Jag, he had neither. I got the car cheap as he was desperate to get rid of the money pit. The body & paintwork were in very good condition, as was the drive train (engine – auto – rear drive – all original to the car), the interior was a disaster. No roof lining – carpets were rotted from water leaks – door panels water damaged – worn down vinyl – cracked dash pad – wood grain dash looked like crazed glass & no dash electrics, auto choke stuck on. Sounds like 'why did I bother?'
<![if !vml]>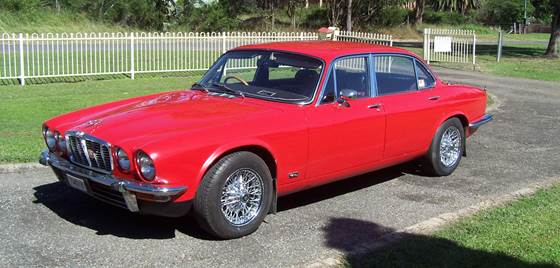 <![endif]>
For me the cosmetics are the easy bit – scrape the old makeup off – put some new stuff on & mutton looks like lamb again. As the car was still registered I had the incentive to get into the project & start sorting out the major items. Soon after buying the car I moved to Sydney, while I was sorting out some mechanical & electrical items Wendy & I had a few great drives up & around the Blue Mt's areas.
<![if !vml]>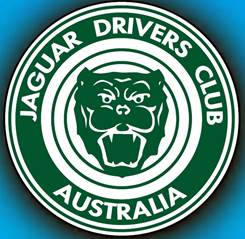 <![endif]>
Rear number plate homemade tin sign decals. The Welsh flag to keep the Jenkins family history, the family crest with a twist, normally 3 dragons on the shield but personalized to reflect the coming together of the Dragonfly (Wendy) & Scorpion (Tom)
<![if !vml]>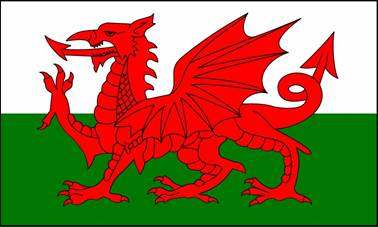 <![endif]>
<![if !vml]>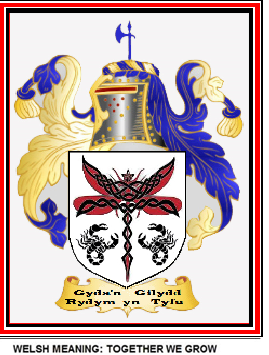 <![endif]>
Was this an Omen or just spooky, While still in Bendigo I removed the center dash cover to service the heater vacuum lines, on the back of the mini parcel tray I see the inspection signature, strange world…….
 <![if !vml]>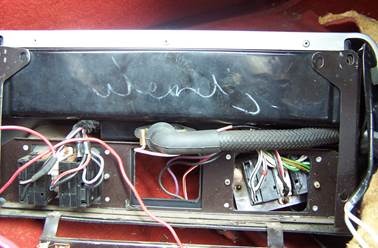 <![endif]> 
Interior design by Wendy, all mechanical – electrical & upholster done by myself, some slight mods on the mechanical – auto choke to manual choke conversion, choke handmade emulating a carter/Stromberg style down draft choke onto SU carbs – cooling recirculating reservoir system – series 3 oil filter conversion – fuel pump switching mod – cruise control & a few other little things to personalize.
The car has always been a pleasure to drive and work on (in spite of its initial faults) as it's been many decades since I 1st started working on the jags & other British cars. Longest trip - Sydney to Melbourne return xmas 2013, very comfortable – plenty of power when you need it & good fuel economy.
Tom